LEARN MORE ABOUT OUR AOLANI STORY
It was in 2001 on the sunny shores of Waikiki Beach, Honolulu that Bruno Schwarz decided to center his family business on a sailboat charter. San Diego's enticing and gorgeous weather made the perfect location and the oceanfront city eventually became Aolani's birthplace and home. With the help of his daughter Lindsay, Bruno recruited expert catamaran designer Kurt Hughes to craft the Aolani, a gorgeous 58-foot Sunchaser American catamaran. Since their humble beginnings hosting football fans watching Super Bowl XXXVII on their maiden voyage, Bruno and his family have gone on to sail with 75% of all Fortune 500 companies, a remarkable and unparalleled achievement in the boat charter industry.
The Aolani is San Diego's most versatile vessel, and the only San Diego boat charter that can comfortably fit 48 passengers on the outer deck or in its spacious salon interior. Although it has the benefit of twin 230 horsepower Yanmar turbo diesel engines, the Aolani is primarily a sailboat and the only vessel in San Diego that is Coast Guard certified to sail out onto the open sea without limitation. Wherever you choose to cruise, we get you there quickly with our powerful engine so afterward, you can enjoy the peace and quiet of a majestic, wind-powered sail. Our crew is like family to us, and we think that after you experience one of our amazing day cruises, you will feel like you are part of the family too.
Now that you know a bit more about Aolani, let us help you plan a spectacular event on our beautiful catamaran! Give us a call today! Please refer to our FAQs if you have any questions about the Aolani!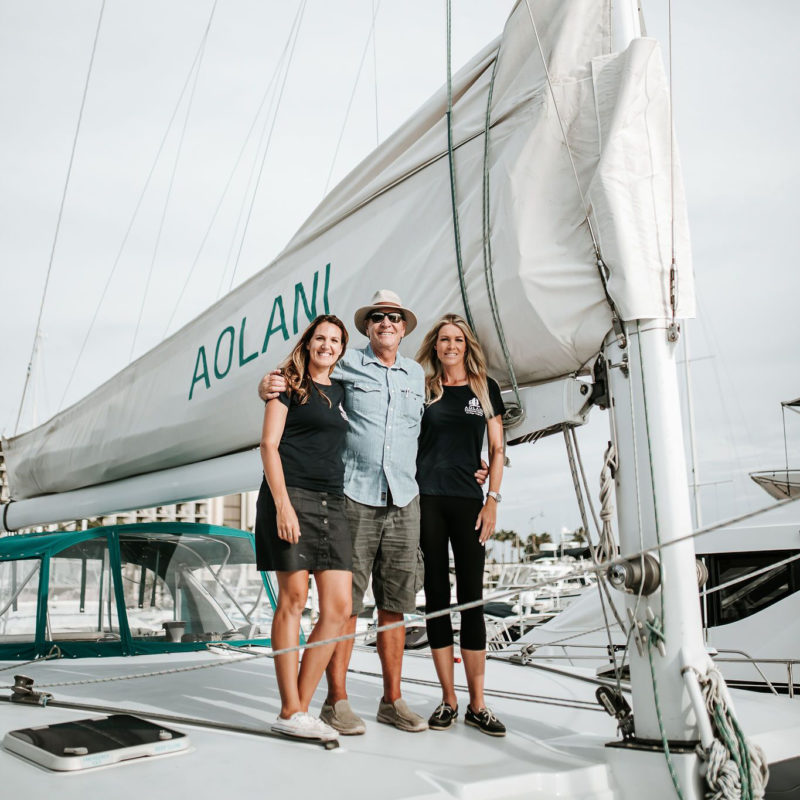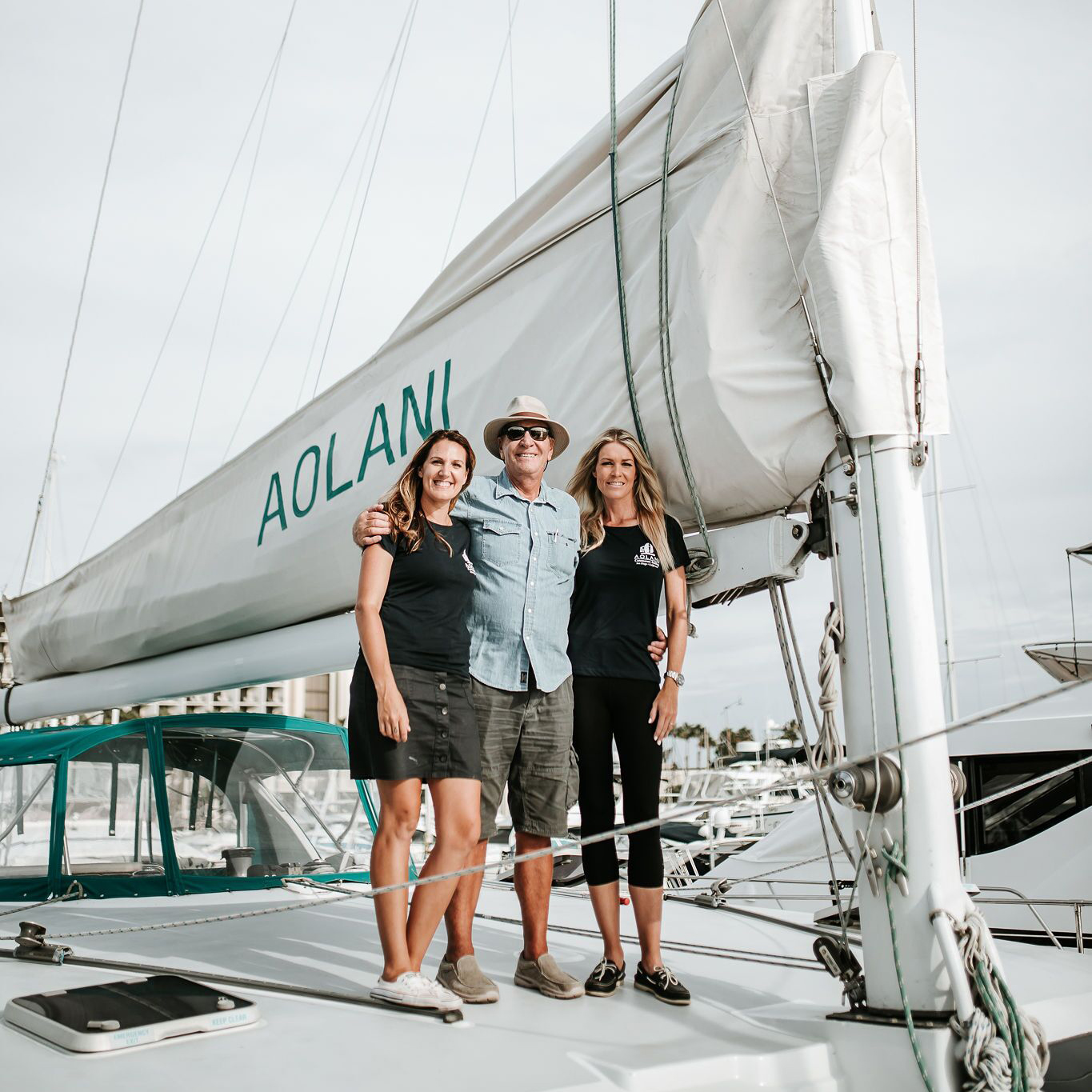 Catamaran Specifications
Designed by renowned catamaran designer Kurt Hughes in Seattle, WA, Aolani Catamaran is a 58' Sunchaser American Catamaran. We completed building her in 2003. She is 58' long with a 32' beam. Sails are approx.. 1500 sq. ft. without spinnaker. US Coast Guard licensed for 48 people, plus crew. We are certified to sail in the open ocean, most charter boats have to stay within the San Diego Bay.
Engines are twin 230 horsepower Yanmar turbo diesels, 10KW generator, full electronics, netting forward, 4 vacuflush heads.
Large galley which serves to inside and out, refrigerator and ice-maker, a large interior salon with 360 degree views.
4 standard staterooms: (2 queen and 2 double), and 2 staterooms for captain and crew.
Hull is made out of state of the art composite/epoxy, honeycomb and fiberglass, built in a female mold with triaxial woving, light weight vessel for maximum sailing performance.
Originally designed for a capacity of 69 guests, the US Coast Guard certifies these catamarans for 48 guests so there is plenty of space for all guests. You may have all your guests within the cabin interior if it is raining, cold, foggy or windy, or everybody is able to be on the outside. We believe we are the only 48 person sailboat in San Diego where everybody can be on the inside or on the outside at the same time. Aolani is primarily a sailing yacht, however, if you should prefer a motor yacht we will not hoist the sails and then she is a motor yacht. Wouldn't you rather have the wind in the sails rather than loud, smelly engine interrupt your hours at sea?
San Diego Catamaran Sailing is the number one attraction in Maui, Hawaii and Key West, Florida. Experience the thrill of fast sailing with this lightweight and attractive vessel. When you leave this boat we want you to have experienced a great sailing adventure.
Sailing in Style: Luxury Yachting for More Fun at Sea
On our 58-foot catamaran, you and your guests can explore the entire San Diego area like you've never seen it before. At sea, we can comfortably fit up to 48 passengers. If you need to host a larger party or you're looking to sync up with local wedding venues, we can dock alongside a nearby hotel or add a second rafted wedding yacht to double the maximum capacity.
When it comes to San Diego Bay tours for corporate events and teambuilding, our hospitality suite is perfect for throwing all kinds of parties. You and your guests can spread out and lounge around in style while our crew attends to your every need. Spend more time taking in the views during unique team building activities while we take care of everything else.
San Diego Yacht Rental Options
Corporate events
Luxury weddings and bachelorette parties
Day cruises
Whale and dolphin watching
Hospitality suite
Military event
Film/media production
Holiday cruises
Burial at sea
If you don't see your event listed above, contact us to see if Aolani's San Diego sailing charters are the right choice for your next get together.
Professional Catamaran Rentals for a Seamless Experience
With 16 years in the catamaran rental business, the professionals at Aolani know how to throw a party a sea. We have the experience to make sure you and your guests have everything you need as you leave the shore behind. Intimate and spacious, power catamarans give you the best of both worlds. Our Captain and Crew are included on all private yacht charter outings, so you can sail worry-free. You and your guests can also enjoy some of San Diego's best catering options with a dinner cruise on board. Let us do all the work so you and your party can sail across the turquoise waters of San Diego in style.
Take your event to the next level with a San Diego day cruise. Aolani is here to create an experience you and your guests will never forget. Contact us to learn more about our catamaran sailing charters and start planning your adventure today.
CHOOSE YOUR SAN DIEGO YACHT CHARTER ADVENTURE
Being a private charter company, versatility is one of our most prominent and unique strengths. Our twin engines can race you out to the ocean faster than any conventional sailboat, but we can also cut the engines at any time for a quiet, clean sailing experience. We can accommodate up to 48 guests plus crew on board at any time, and our interior and exterior spaces are designed so that in the unlikely event that the San Diego weather isn't perfect, everyone can still fit comfortably in the salon. And while we have a wide variety of planned outings available, you can choose your own adventure, and charter the expedition that's just right for you!
One of the many things that set us apart from other sailing options in San Diego is that we are Coast Guard certified to sail in the open ocean, not just in the San Diego Bay. This leaves your options wide open for your custom yacht charter. San Diego has many amazing shoreline attractions for day trips, sunset sailing & sunset cruises, as well as unforgettable overnight trips to Catalina Island, where you can anchor for one or more nights and explore that unique, sparsely populated and idyllic island. For the wildlife lover, the months of November through April tend to be perfect for getting up close and personal with Gray, Finback, and even Blue Whales during their southern migration down to Mexico. Other amazing ocean creatures such as pods of dolphins, sharks, sea lions, and seals can be observed year-round as well. Our expertly-trained captain and crew make for a safe and non-disruptive experience for the wildlife, and a smooth and comfortable experience for our guests. On-board, we have modern audio-visual capabilities for corporate presentations or private celebrations with 2 interior flat screen TV's and surround sound. Options abound for dining onboard the Aolani, from our fine selection of snacks and sandwiches, to gourmet catering from some of San Diego's favorite restaurants. A full bar of premium liquors and wines is also available!
With all of the versatility of this amazing catamaran, the options for how to enjoy your chartered adventure with Aolani are virtually endless! Let us help you custom design your ideal excursion on the water, with a no-obligation consultation. Contact the 2016 A-list winner for San Diego boats and call today and start planning the trip of a lifetime!
Book your Aolani Charter today!
AOLANI PRIVATE YACHT RENTAL & BOAT CHARTER | (619) 807-8000 | 1380 HARBOR ISLAND DR, SAN DIEGO, CA 92101