Day Cruises
San Diego Day Cruises
With such a unique view of the city, there should be no rush when taking it all in. Make your San Diego day cruise as peaceful as the water, and relax onboard the Aolani Catamaran. Most San Diego day cruises have a four hour time limit, but not with us. Because we are privately chartered, we will sail as long as you'd like, wherever you'd like. We will make sure you don't miss any of the sights in San Diego Bay by letting you choose your own hours as we are private charter only.
Ideas:
Downtown San Diego skyline (sights we see: Military Ships, Aircraft Carriers, Maritime Museum's Star of India Tall Ship, the California, HMS Surprise (from the movie Master and Commander), B-39 Submarine, downtown hotels, Seaport Village, Coronado Island)
Anchor in Glorietta Bay for a day of swimming, snorkeling, Stand Up Paddling, etc
Coronado Island
La Jolla Cove for a day of swimming, snorkeling, etc
Check out our Gallery for more photos!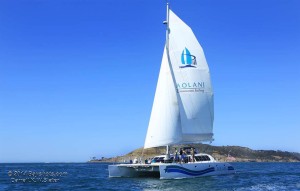 With us, your day cruise in San Diego will be an unforgettable one. You can take advantage of our catering services and have your meals right on the boat, or anchor and enjoy a meal on land. We are here for you and strive to accommodate your needs. This is what distinguishes the Aolani from other San Diego day cruises. We look forward to showing you a great time onboard the Aolani!